I've read two books this past week. An older one . . .
by Margaretha Shemin
illustrated by Peter Spier
I found this gem in one of our town's Little Libraries. It was originally published in 1963, but was published again in 1988. There was a
movie
made from it in 1996.
An eleven-year-old American girl named Johanna is living in Nazi-occupied Holland. She sits at her window and views the church steeple and watches the little riders as they ride out on their white horses when the clock strikes the hour. She resents the presence of a German soldier quartered in her grandparent's house, until the night she tries to hide part of the town's treasured clock mechanism.
I loved this little book. It is short, the book I have is only 76 pages, but it is a good historical fiction that takes place during WWII. Johanna is a very likeable main character. She is courageous and, near the end, forgiving.
and a newer one . . .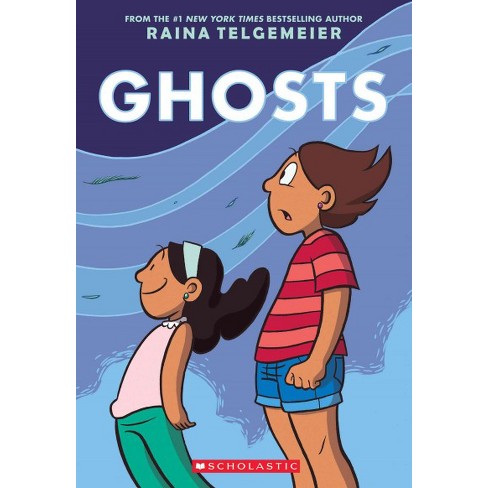 by Raina Telgemeier
Ghosts, is a graphic novel. According to the reviews on Amazon, Raina Telgemeier's graphic novels are very popular.
I'm not really into graphic novels, but I must admit I loved Archie, Betty and Veronica when I was a child. Kids seem to love them. I think they would appeal to the reluctant reader because of the graphics and the lesser word count. But I can tell there is a lot of work that goes into writing them. Her characters are very expressive.
Here is what it says on Amazon:
Catrina and her family are moving to the coast of Northern California because her little sister, Maya, is sick. Cat isn't happy about leaving her friends for Bahía de la Luna, but Maya has cystic fibrosis and will benefit from the cool, salty air that blows in from the sea. As the girls explore their new home, a neighbor lets them in on a secret: There are ghosts in Bahía de la Luna. Maya is determined to meet one, but Cat wants nothing to do with them. As the time of year when ghosts reunite with their loved ones approaches, Cat must figure out how to put aside her fears for her sister's sake - and her own.
If you, or a child you know, like graphic novels, I would recommend this book to you.