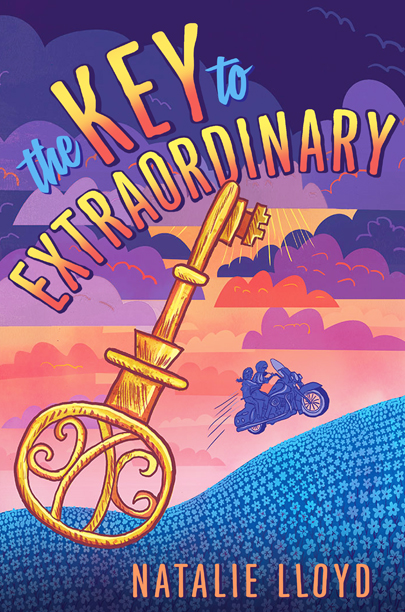 The Key to Extraordinary
by Natalie Lloyd
February 2016
This is what it says on Amazon:
Everyone in Emma's family is special. Her ancestors include Revolutionary War spies, brilliant scientists, and famous musicians--every single one of which learned of their extraordinary destiny through a dream.

For Emma, her own dream can't come soon enough. Right before her mother died, Emma promised that she'd do whatever it took to fulfill her destiny, and she doesn't want to let her mother down.

But when Emma's dream finally arrives, it points her toward an impossible task--finding a legendary treasure hidden in her town's cemetery. If Emma fails, she'll let down generations of extraordinary ancestors . . . including her own mother. But how can she find something that's been missing for centuries and might be protected by a mysterious singing ghost?
I like this First Line:
It is a known fact that the most extraordinary moments in a person's life come disguised as ordinary days.
This is a neat book. It is filled with a little magic, mystery, wonderful characters, and a cafe that serves boneyard brew and peach-lavender muffins. They live at Blackbird Hollow, Tennessee. One of Emma's jobs is giving tours of Blackbird Cemetery, which happens to be in her backyard and is one of the oldest and most famous resting places in the state. She loves the beautiful names on the tombstones.
I think you will enjoy this story.
I don't make peach-lavender muffins, but I do make Applesauce Muffins that are delicious.So grab the book, a muffin and a cup of milk or coffee and enjoy.
Applesauce Muffins
1/2 cup butter, softened
3/4 cup sugar
1/4 cup brown sugar
1 egg
3/4 t. vanilla
1 cup unsweetened applesauce
2 cups self-rising flour
1 t. cinnamon
1/2 t. allspice
1/2 cup chopped nuts (Hickory nuts or walnuts)
In a bowl, cream butter and sugar. Add egg and vanilla. Mix well. Stir in applesauce. Combine flour and spices. Stir into creamed mixture. Fold in nuts.
Fill paper-lined muffin cups 3/4 full. Bake at 400 for 20 minutes or until toothpick comes out clean.
TOPPING: 1/3 cup sugar, 1/2 t cinnamon, 3 T melted butter. Dip tops of baked muffins into melted butter, then into sugar cinnamon mixture.
OPTIONAL TOPPING: Shake cinnamon/sugar mixture on top of muffins before or after baking.
OPTIONAL: Just put a nut on top of the muffin before baking.