This week I read:
Eight Keys
by Suzanne LaFleur.
A Yearling Book
2011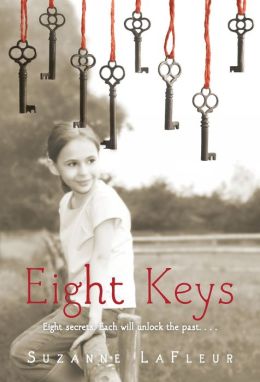 On the author's site, I found this description. I couldn't put it any better.
Elise has loved her life with Aunt Bessie and Uncle Hugh so far, and she's always been best friends with her neighbor, Franklin. But when Elise starts middle school, suddenly everything goes wrong: more family moves into their house; things with Franklin seem off, somehow; she can't keep up in school; and her locker partner is a nightmare.

That's when Elise discovers a secret, one that has been waiting for her since she was a little girl.

She's never given much thought to the eight locked rooms above her uncle's workshop in the barn; that is, not until she's ready for something to change, not until she finds a key with her name on it…
But, I would like to add that I grew to care about Elise. She did grow and learn. I rooted for her and liked the person she became. This story covers bullying and changing relationships.
Give it a read. I think you will like it.
In comes in at 44,910 words.
For more middle grade fun, check the links on
Posted by
Janet Smart
on
Creative Writing in the Blackberry Patch.